Treat your Bothersome Rosacea with a Cynosure Icon
™ 

Laser Treatment

You're not alone! Rosacea affects over 16 million Americans. Rosacea  is a common skin disease characterized by extreme redness resulting in redness, pimples, swelling, and small and superficial dilated blood vessels. Often the nose, cheeks, forehead, and chin are affected.  It often begins with a tendency to blush or flush more easily than other people. Rosacea is a long-term skin condition in which the cause is unknown and there are no cures.
How Does Light-Based Treatment Work on Rosacea
Good news, laser treatments can help. Here at Phoenix Tattoo Removal and Skin Revitalization, we use Cynosure Icon™ Laser.  With just a few light-based rosacea treatments will reduce the redness, rashes and flushing, making your skin appear clearer all while improving your skin's texture, abating the appearance of break-outs and broken blood vessels. Rosacea treatments with the use of intense pulsed light /IPL are safe and one of the most effective treatments for Rosacea. Intense Pulsed light target and treat the dilated blood vessels responsible for the chronic redness that appears on your skin which will then reduce the persistent redness of the skin. Best of all, rosacea treatment can provide skin tone improvement by diminishing the appearance of broken blood vessels and acne-like breakouts associated with this common skin condition.
Intense pulsed light can improve the appearance of:
Rosacea (full face)
Flushing rosacea
Red chest and neck vessels
Even skin color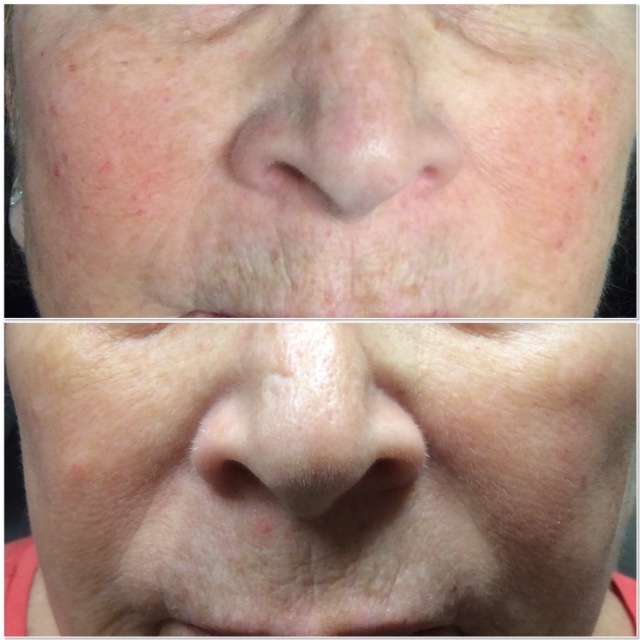 What to expect after your Light-Based Treatment
There is no downtime with this treatment.  It is normal for the area to feel similar to a mild sun burn for a few hours.  The vessels may undergo immediate graying, or they may turn slight purple or red in color.  The vessels will fully or partially fade in about 10-14 days. The  persistent use of broad-spectrum SPF 50 sunscreen, shade and wide-brimmed hats following each treatment will protect the skin from UV rays. The skin will be more sensitive to the  sun immediately following treatment. Patients are able to return to their normal daily activities immediately following treatment. For maximum results, 3 -5 rosacea treatments are recommended, 4 weeks apart.