Voted "Top Doc" in Dermatology by Phoenix Physicians in Phoenix Magazine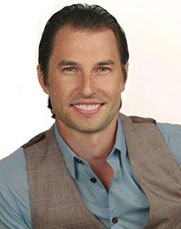 Dr. Andrew Racette is a board certified Osteopathic dermatologist through the American Osteopathic Board of Dermatology. He earned his Bachelor of Science degree in Cellular & Molecular Biology at the University of Michigan in Ann Arbor and received his medical degree from Midwestern University: Arizona College of Osteopathic Medicine in Glendale, AZ in 2004. He then completed a one year traditional rotating internship at Plaza Medical Center in Fort Worth, Texas from July 2004 to July 2005. He graduated from his residency program in June of 2008 and opened his own dermatology practice, Omni Dermatology in Phoenix, AZ.
Patients appreciate Dr. Racette's comprehensive approach to the treatment of their skin. He approaches each patient individually taking into account all factors pertaining to the patient's problems. He spends an extensive amount of time getting to know each patient so he can best tailor their therapy. Patients have the up most respect for him and his reputation precedes himself.
Angela Rasmussen CMLT, LSO 
Angie has been a medical esthetician/laser technician for 13 years. Her personal desire to improve her own skin, reduce the signs of aging, and to look and feel better about herself soon turned into a rewarding career of helping others do the same. She has worked primarily in medical offices performing a variety of laser treatments to help her patients achieve their own skin desires and goals.
In Angie's free time, she enjoys hanging out with her family and friends. She's a mom to a 20 year old son, 18 year old daughter, and 3 spoiled puppies. She loves to travel and experience new adventures in her free time.