Let the Alma™ Harmony Treat Undesirable Broken Vessels
Veins (broken capillaries) are great at transporting blood, but that doesn't mean you want to see them on your face, chest can feel prominent, unsightly, and bothersome.
These broken capillaries are tiny veins that can appear through the skin on your face and chest. Repeated exposure to the sun is also a key cause of broken capillaries. The constant damage to the skin caused by chronic sunburn forces it to try to recover and repair itself by making new vessels.  The UV also breaks down collagen, making the vessels more apparent.
IPL treatments are non-invasive, effective and an affordable way to treat facial veins and redness.
How does IPL Treatment Work on VEINS?
FACIAL VEINS
IPL uses pulsed light energy targeting vascular lesions, heat energy closes off surface blood vessels, which in time get absorbed by the body.  Dual bands of wavelengths work together to selectively target the areas to clear not only vessels targeting hemoglobin (blood vessels), but pigment as well. . The resulting transformation leaves a more even skin tone and a beautiful radiance that can increase the confidence in your appearance.
IPL IS ideal for patients who want to:
Address the look of small, visible veins
Telangiectasias (facial vessel)
Hemangiomas, Cherry Angiomas
Port Wine Stains (pink birth mark)
Rosacea (full face) and spider veinS
Red chest and neck vessels
Even skin color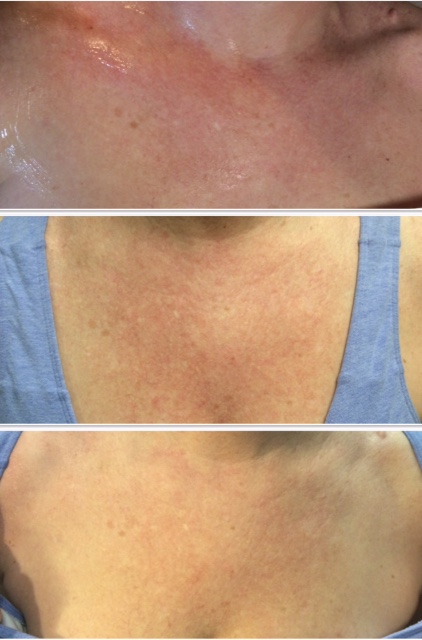 What to expect after your treatment
After an Alma™ Harmony Laser Treatment there can be a little redness or swelling for a few days, resembling a sunburn as the skin takes time to heal, and occasionally skin may darken for a day or so before the old is sloughed off to reveal new skin underneath.
There is no downtime and recovery is immediate.  However, patients are urged to diligently protect their skin from UV rays by using broad-spectrum SPF 50 sunscreen, shade and wide-brimmed hats following each treatment, as the skin will be more sensitive to further sun damage immediately following treatment.  Patients are able to return to their normal daily activities immediately following treatment. 3 -5 vascular lesion treatments recommended 4 weeks apart are necessary for optimal results.